The Journey Continues ...
The binding of deep wounds and the healing of broken hearts is an intensely intimate and essentially practical experience.
The simple but profound truth is that there is no efficient or effective substitute for the private, personal, time-intensive conversations that translate beyond words -- into hope.
You are a beloved child of God
No matter what mistake you may have made
or offense you may have committed,
your life is precious and of infinite value.
Your gift of life is unique
and only has become more so
through your woundedness.
These are the healing words that are spoken each day at the Nurturing Network. They ring true and find their way home in every human heart.
Perhaps it is time for you to say these tender words to someone you know. Or, even better, perhaps you are ready to offer them to yourself or someone you are about to meet.
This is the Journey we take each day
At the Nurturing Network.
We welcome you to walk alongside us
As we bring hope and healing
To the most vulnerable in our midst.

"At times our own light goes out and is rekindled by a spark from another person. Each of us has cause to think with deep gratitude of those who have lit the flame within us."
~ Albert Schweitzer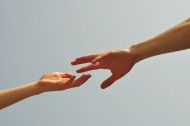 THE HARVEST
Every person who shares in this Journey
of Hope and Healing
is forever changed.
To give love
and to receive love
in the most vulnerable of
life's circumstances
is to awaken to the
possibility of a better day,
a gentler world.
Each Servant Leader
multiplies their unique Gifts
a hundred-fold.
Their love lives on
and will be remembered
and for always.